Sofa Redesign
Sofa redesign gives you the chance to breathe new life into your furniture without actually having to replace it. There is so much that you can do to your existing pieces and you might just be surprised at how you can get an amazing new look without spending a lot of money in the process. It doesn't matter how much time you have or what you're looking to spend because our services are quick, efficient, and much more affordable than buying a new sofa for your home when you want a change. Check out all of the solutions we offer and let us know how we can help you.
Shape Change
One of the most basic redesign and fabrication options that we offer is a simple shape change. When you like your furniture, but you want something with a slightly different shape, we can help. From full disassembly and reconstruction to minor changes here and there, our professionals know what it takes to help you get the look that you want from your furniture. Make sure that you explore all of the different services that we have to offer, check out our past work, and let us know how we can help you. Forget buying a new sofa because a few small changes can definitely go a long way.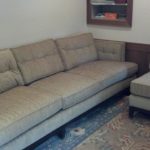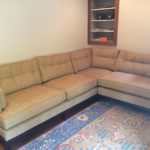 Size Doesn't Matter
When you choose Dr. Sofa, size doesn't matter at all. We are experienced in working with all shapes and sizes of sofas, allowing you to trust that you're getting the best work possible, no matter what you have in mind. Let us help you get more out of your sofa, large or small, with our redesign services. Even if you want to make things smaller or larger, we can work with you to come up with a plan that suits your tastes. Plus, you'll save a lot compared to replacing the furniture in your home, which makes it worth the while every single time.
Arms on Opposite Side
Perhaps you simply want to redesign the look of your sofa by switching the arms around. It's really a simple fix, but one that people don't often think about. Switching your sofa arms will allow them to wear more evenly and give you more life from your furniture, saving you a lot of money on replacement costs. It's the little things like this that we do at Dr. Sofa to make sure that your furniture gives you the most life possible. With simple redesign and fabrication solutions like this, you'll have a great new look in no time at all.
Tired of Leather Sofa
If you've invested in a leather sofa, but you're no longer enjoying the look or are tired of the maintenance, it might be time for a little change. With our leather redesign services, we can either re-finish the leather or re-upholster the sofa completely with the material of your choosing. It's all about giving you more for your money. Why replace your furniture when the structure is still solid, after all? If you choose to redo things instead, you can keep your furnishings and simply breathe new life into them, which is something that will be worth every penny. Let us help you redesign and redefine your sofa.