Furniture Made From Scrap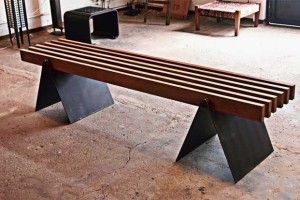 Custom designed furniture and pieces made from repurposed materials have a unique look to them. No two items will be exactly alike – since wear and tear on salvaged materials can vary as well as how well the items will work with existing materials.That is part of their charm and appeal.
When furniture designers are working with recycled materials, they have limitations, but also freedoms in that there is no pressure to churn out the exact same item time after time. The work can live and breathe on its own – from the most extravagant leather upholstery project to even something as mundane as patio furniture – when designing one-of-a-kind pieces from repurposed materials, the artist has a blank canvas like never before.
In the old auto shop owned by his father located in Mumbai, India, designer Aziz Kachwalla puts together metal and wood, ropes and cloth, plastic and tin to create a wide range of furniture, armchairs, stools and other home décor pieces. Kachwalla is exhibiting pieces at the Artisan's space. Shown in one location, his striking and interesting creations show to the level of influence his mechanic father had on his design "grammar" as he calls it.
The designer says he wants to get architects and interior designers to begin to discuss how unlikely materials can give voice to the variety of influences one can have. Whether it is a type of religion one grew up with or his/her art education– those factors can contribute to the look of their repurposed furniture.
Kachwalla tends to utilize objects he has found in his projects. And he strives to keep them the way he found them as much as possible. Shying away from adhesives or joints to put together plywood furniture. Resorting to the humble nuts, bolts and screws – his Slat Bench, a simple V-shaped metal frame fitted with unpolished wooden slats has a character all its own.
In Kachwalla's mind, covering wood with veneer hides the basic material – something he would prefer not to do. Calling it a "false sense of decoration" the designer would rather use a particular material for its own value and purpose. In this way he's preserving the integrity of each material even as it becomes transformed into a new piece. Right down to the way the furniture is put together, Kachwalla wants to make certain the essence of the materials shine through.
If you are considering a custom piece of furniture for your home, it is highly likely that the designer of that piece wanted to preserve his feeling and thought when he designed it, letting the materials speak for him.
Custom furniture is valued for its special features. Among them obviously is the fact that no other person has anything like it. That in itself makes it unique. So too does the history of each material, the purpose it used to serve, the care the designer took to preserve that history and honor it as well as how it has now been transformed to serve a new one.